2011 La Fraternité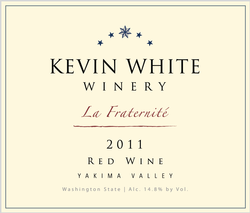 Wine Specs
Appellation
Yakima Valley
Wine Profile
Tasting Notes
La Fraternité screams bright red fruit from the moment you pull the cork. A lively wine, it brings together licorice, strawberry, and raspberry flavors with white pepper and spice wrapped around a smooth, medium body.
Vineyard Notes
The 2011 vintage will go down as one of the most challenging and rewarding in decades. Mother Nature threw it all at us: an early winter freeze followed by one of the coolest growing seasons. Luckily, our sites – Olsen Estates and Upland Vineyard – escaped damage and fully ripened all of our fruit. Our partners in the vineyards – Leif Olsen and Todd Newhouse – managed their vineyards with care and their hard work paid off.
Production Notes
At harvest, our grapes are gently de-stemmed and allowed to ferment as whole berries. For 5 days, a traditional cold soak ensued allowing for flavor and color to integrate in the must before the presence of an alcoholic fermentation. Following this cold soak, inoculation occurred with select yeasts originating from the Rhone Valley and Spain. Fermentation finished between 5-7 days with a peak temperature of 81°. The wine was gently pressed off its skins and placed in 100% neutral French oak barrels for 12 months. The final blend was composed in July 2012 allowing the wine to integrate for 5 months prior to bottling in December 2012.