2012 La Fraternité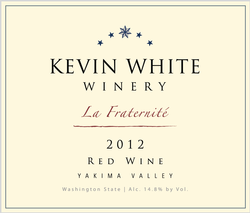 Wine Specs
Appellation
Yakima Valley
Wine Profile
Tasting Notes
The 2012 La Fraternité pronounces bright red fruit from the moment you pull the cork. This Grenache, Mourvedré and Syrah blend is a lively wine with layered aromas and flavors of Kirsch, strawberries, raspberries, rose petals, white pepper and spice. On the palate, these flavors wrap around a medium body which is smooth and fresh.
Winemaker Notes
2012 was a textbook Washington State Vintage. From spring to fall, our growing season in the vineyards was ideal. Spring started cool, but from June through harvest, temperatures were slightly above average with little precipitation. The warmer temperatures required careful crop management and pick decisions to ensure that the grapes did not lose their acidity and become overripe. This year we sourced Syrah from Olsen Estates and Wallula Vineyard, picked September 24th and October 6th respectively. As in the 2011 vintage, our Upland Vineyard Grenache was picked on October 16th and Olsen Estates Mourvedre was picked on October 19th.
Production
At harvest, our grapes are gently de-stemmed and allowed to ferment as whole berries. For 5 days, a traditional cold soak ensued allowing for flavor and color to integrate in the must before the presence of an alcoholic fermentation. Following this cold soak, inoculation occurred with select yeasts originating from the Rhone Valley and Spain. Fermentation finished on all lots within 5-10 days with fermentation temperatures not exceeding 82°. The wine was gently pressed off its skins and placed in French oak barrels (20% new) for 10 months. The final blend was composed in June 2013 allowing the wine to integrate for 3 months prior to bottling in August 2013.